Do you have a birthday coming up?
Book 2 months in advanced, we fill up quickly!
BGC Thunder Bay has the best party rentals in the City! We are the place to be for Birthday parties, Christmas parties or team parties. We offer four, 2 hour time slots on both Saturday and Sunday at 11:00 AM, 1:30 PM, 4:00 PM and 6:30 PM. A basic party is $275.00 and includes rental of the gym for 2 hours, set up and supervision of one bouncy or climbing wall for up to 25 kids. Included in your rental is use of tables and chairs, use of any sporting equipment, kitchen access for storage and clean up after the event. All inflatables and equipment will be sanitized between rentals. Please note BGC Thunder Bay does not do off-site birthday parties. All parties are done at the Windsor Street location.
Inflatable Choices & Climbing Wall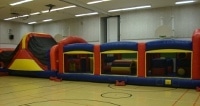 Rainbow Run Inflatable
Almost 60' of fun! Make your way through eight different obstacles, climb the steps to the 12' high peak and slide your way to the exit. Great for kids of all ages - the safest slide in the city!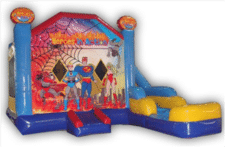 Heroes Bouncer
Heroes is a traditional bouncer measuring 16 by 19 feet. Toss the balls through the hoop while bouncing away. The exit is a super fast slide. This one is recommended for the younger kids but is still good for all ages.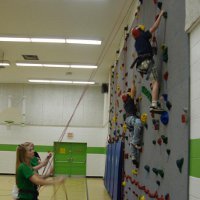 Climbing Wall
Our climbing wall comes in at 16 feet high by 32 feet wide. It has 5 separate lanes with 3 courses per lane for 15 different climbs from rookie to expert.
For more information on rentals including parties, please leave a message on our birthday party voice mailbox at (807) 623-0354 ext. 155 .
The office is open 8:30am – 4pm Monday to Friday. All calls will be returned in the order they are received.
Standard Party $275
This fee includes rental of the gym for 2 hours, the set up and use of one device, set up and use of tables and chairs, supervision of party participants on inflatable and post-event clean up. FULL PAYMENT is required at the time of booking. Dates and times may be rescheduled at the discretion of BGC Thunder Bay. Any changes or additions to your original party booking must be requested at least two weeks prior to your party date.
Add a second device for
$75.00

Pizza Hut Panormous Pizza
16 huge slices for $25 for the first/$20 each additional
or 10" Gluten Free 3 Topping Pizza $13 each